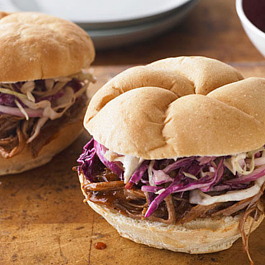 Courtesy of Kraft Kitchens
Servings: 12
Prep Time: 30 Min.
Cook Time: 2 1/2 Hr.
* 1 red onion, divided
* 2 c. each shredded green and red cabbage
* 1/4 c. MIRACLE WHIP Dressing
* 1 bottle (19.5 oz.) HEINZ BBQ Sauce Texas Bold & Spicy, divided
* 1 Tbsp. oil
* 1 beef brisket (3 lb.), trimmed
* 1 can (14.5 oz.) fat-free reduced-sodium beef broth
* 2 cloves garlic, minced
* 12 kaiser rolls, partially split
1. Heat oven 350ºF.
2. Cut half the onion into thin slices; place in large bowl. Add cabbage; mix lightly. Mix dressing and 2 Tbsp. barbecue sauce until blended. Add to cabbage mixture; toss to coat. Refrigerate until ready to use.
3. Heat oil in large skillet on medium heat. Add meat; cook 5 min. or until evenly browned on both sides, turning after 3 min. Transfer to 13x9-in. baking dish sprayed with cooking spray. Chop remaining onion piece; sprinkle over meat. Mix broth, 1/2 cup of the remaining barbecue sauce and garlic; pour over meat. Cover.
4. Bake 2-1/2 to 3 hours or until meat is done (160ºF). Remove from heat. Let stand 10 min. Shred meat; place in large bowl. Add remaining barbecue sauce; toss to coat.
5. Fill each roll with 1/2 cup meat mixture and 1/3 cup coleslaw just before serving.